Five Days (a clinical study of watchaholism
Brothers, I am a certified watchaholic.

You need to know that I get a warm feeling when I see a postal truck or a Fedex van and my favorite color is UPS brown.

First, I must confess, I was being good, very good. Nearly 10 weeks, 2 1/2 months without a delivery, a wire transfer, a bank cheque, or even a trade. Not that I disappeared from the world of watches that I love so much. I read the Sales Corner on Timezone.com everyday. I searched Ebay. I continued to read all the glossy magazines. I sold several watches from my collection and I, even halfheartedly, tried to sell some of my favorite watches.

Still I didn't purchase a watch. No delivery boxes came. No postal employees came to my house asking me to sign for a package from Japan, Germany, Switzerland or even the coast of Spain.

It's not that there was no lust in my heart. I went with friends to local watch stores. I stood there and supported their purchases. I freely gave my opinions on commerce to colleagues on the phone, online and even by fax.

I looked, I touched, I thought about many, many watches. I even schemed up a plan to get something big -- a tourbillon, repeater, maybe even a full-sized replication of Big Ben.

Finally I cracked. It wasn't purposeful nor pre-planned. Iwas tired of begging friends to send me empty"boxes." They thought I was "amusing."

Last Monday my friend Dan offered up one of his ("I'll never break up the set") handwound PVD Panerais - a very rarely seen all black version of this popular watch. He didn't have to ask twice (in case he changed he mind). Now, I've had tw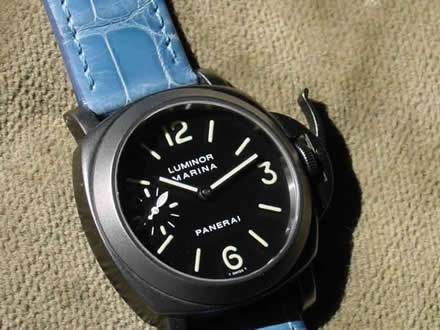 o Panerais and I admit I missed not having one. If you've ever worn one, you know what I mean. It's not like wearing a watch. You are strapping on a timepiece, the way the cowboys of the American West strapped on their gunbelts. So there I was at his house with my checkbook in hand.

I didn't even waste time, on my way home I was calling up the local Panerai dealer to overnight me a colorful, baby blue strap for this noir beauty.
Now I was feeling like a new man. A new watch and spring was in the air.


Wednesday, I picked up a Blancpain (Limited Edition)

Timezone. My fourth Blancpain and of course, I rationalized that each one is very different. This one has the opaline dial, WG markers and presents a useful complication. Plus it has a display back to admire the handfinished beauty of the movement. Except it was set up withan unoriginal ugly strap on it and damn if these BP strap/deployant combinations aren't a pain to remove. I decided it was better to go to my local BP dealer and have him remove the hardware. Fortunately he closes early Wednesday. So Thursday morning, I'm at the door when he unlocks it. While he's removing the ungainly strap and deployant in the backroom, I'm perusing the cases filled with lovely watches. Like I said, it's spring and......am I nuts? I'm staring at quartz Corum Bubble watches. Now I'm no fuddy-duddy, gotta-be-round-kind-of-watch guy, I even own a proud owner of a Dubey but this Bubble Watch is funky and fun and very different from anything I have in my collection. Without a sense of purchase intent, I say to the proprietor, "Good t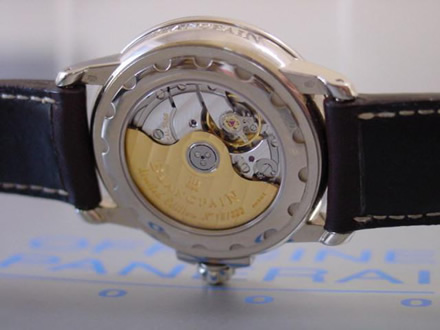 hing they don't make these quartz monstrosities with an automatic movement or I'd buy one."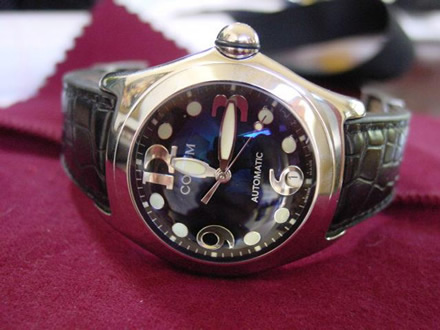 He says, "wait one second, let me show you something"and he brings a Bubble Automatic out of the safe. We'll I'm snared. Anyway, it's good in this global online economy to support your local watch pusher. So Watch for the Week # 3 is on my wrist and I'm loving it.

Friday brings the UPS truck with an Omega Pink Gold Daniels Co-axial. I've always admired the innovation. I've always thought this was a beautiful watch (of course, I still don't understand why they chose not to showcase it with a display back). But the finish of the case and the contrast with the dark blue dial is really spectacular. It's a certified chronometre and limited edition. I'm such a prince when it comes to rationalizing a purchase.

I was surprised to actually find one of the original NIB since Omega is introducing several new models at Basel. However, a good friend has one in his store across the country and overnight it's here.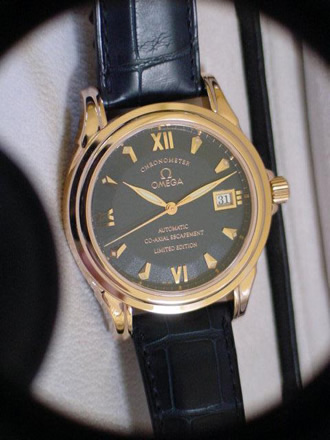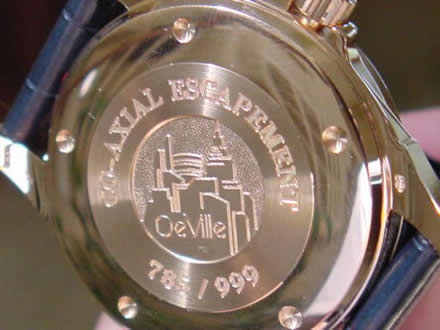 Four lovely watches, five days.

And it feels right.

Larry Seiden