Reflecting on the history of a Lange Pocketwatch

A couple of months ago, I purchased this magnificent pocketwatch complete with original box and papers.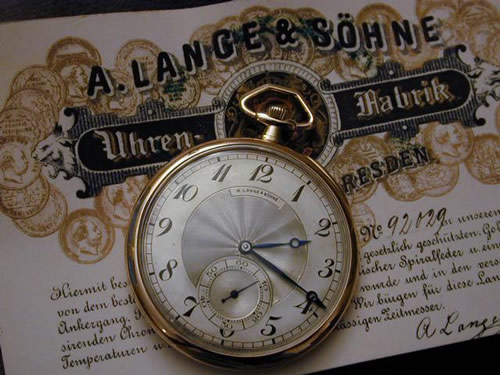 This led me on a magical journey through the web to Germany, where I was able to connect with Mathias, a Lange scholar, who helped me learn more about the history of this Otto Lange creation. Mathias persuaded the Glashutte Museum to open their archives and deliver these documents:

The late 20s and 30s were a time of intense competition for the Lange family and factory. According to Reinhard Meis' book, "The WatchMakers of Dresden," the lifting of the ban on Swiss watches in 1924, brought a wave of Swiss watches (including wristwatches, which the Langes were not yet ready to produce) all cheaper than the Glashutte product, into the German market. At that time Lange watches cost 285 Marks, while the Swiss were selling their's between 132 and 159 Marks.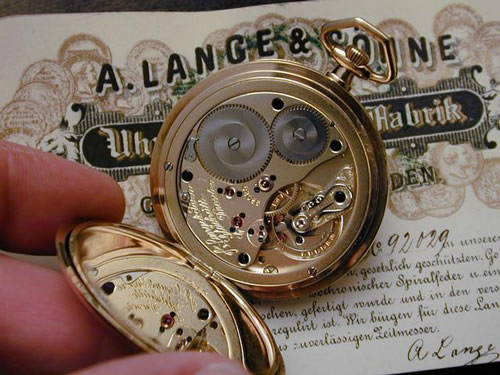 To counter the flow of the Swiss timepieces, Otto Lange introduced the OLIW (Originale Lange Internationales Werk), a less precise line utilizing standardization and interchangeable parts. Sometimes these watches were referred to DUF or Deutsche Uhrenfabrikation, which was stamped above Lange-Uhr on many of the dials.
Still the Langes went about producing their fine 1A quality line of pocket watches along with deck watches. My watch has a smooth 18kt case and cuvette with gold hinges. The dial is made of gold with an engine-turned center and small seconds. The hands are blued steel. The movement is the famous (and still seen today) Gilt 3/4 plate with jewels in gold settings. The compensation balance has gold screws and Breguet spring. The watch sold for 513 Rentenmark (a currency revaluation designed to end the German inflationary spiral of the 20s).

| | |
| --- | --- |
| | |
As an owner of a Lange 1, taking the time to research a watch's past gives me a window to view the history and great tradition of this company. And as I get older I learn to cherish more and more of the past, which helps me find greater meaning of my own life. To see and hold the results of the inspiration and vision that Adolphe Lange passed down to his sons, Richard and Emil and through Emil to his sons,Otto and Rudolf, helps me understand the passion that drove Walter Lange to ressurect and extend his family's greatness into the 21st century and to him, I say thanks from my heart.

Larry Seiden